A Poem by odinroark
---
Author:
odinroark
Created:
April 08, 2017 at 08:36 pm
Upload Type:
Poem,
G (All)
Category:
General/Other | Free Verse | Philosophy
Upload Stats:
166
views
---
Our Waiting Rooms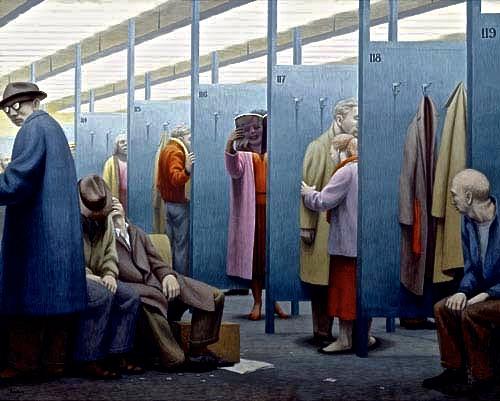 Our Waiting Rooms
by Odin Roark

One's special space,
where chin resting
upon knees tucked,
arms wrapped tight,
to be the hidden ball
we wish to be.

How many such moments
harbor our protected thoughts,
those times when
happiness hangs tenuous,
like a spider's web in progress,
trusting no harm will come
while trying to anchor
tomorrow's hope.

We've all been there,
whether in a changing room,
closet,
bedroom corner,
or attic darkness,
whether child,
adult,
or senior.

The fortunate arrive at a different moment,
that time when there's neither regretting the past
or fearing the future.

Yes…

We carry our waiting rooms
upon our backs,
or held tight in prayerful hands,
perhaps beneath squeezed eyelids,
and sometimes a body in frozen ice of our making.

So vulnerable we feel.

So vulnerable.

Remembrance brings back painful times,
when trying so hard to maintain balance,
we've often fallen into the void.

Along the way,
the waiting room receives anxious news…
information,
results,
decisions,
hopes,
dreams,
fears.
accompanied by eager bearers with their answers,
all with passkeys.

Then…

Comes the time when we unclasp our grip,
lift our heads above the burden,
spread our arms,
and breathe out our own answers,
often for the first time,
discovering one's special space
is self-acceptance.

If fortunate…

We reach waiting room's open door
facing freedom without parallel,
forging forever that life exists
often as mere moments-in-waiting,
moments one allows for breathing
regardless the consequence.

Ah…

The juncture.

A moment ready to thrive outside the waiting room.
© odinroark - all rights reserved
Author Notes
---
More reflections on how one has fared in the quest for understanding. (Painting by George Tooker)
The author would love to hear your feedback but you must be logged in to do that. If you are a member of Writers-Network click here to login and review this writing entry.

Not a member? Not a problem! You can register here, it's free for everyone
Comments & Reviews
There are no reviews. Be the first to review this writing piece and earn DOUBLE points!